Chuiyang.Electromechnical.Industrial.Zone,Aojiang.Town, » China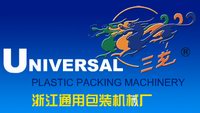 We are a company based in CHINA manufacturing machinery for PP Woven Fabric/Bag/Sack since last 20 Years.
We offer whole plant machinery to produce HDPE/PP woven plastic sack, FIBC, raschel bags, leno bags etc. Which are used for packing grains, wheat flour, cement, fertilizer, chemicals, Onions, potatoes, and other vegetables etc. We export our machines to many countries around the world.